WorkSAAS . . . a Compliance management system
that . . . Promotes a safe working environment
Enhances the reputation of your organisation
Ensures legislative compliance and mitigates risk
while . . . Improving management performance and reducing cost
Improving productivity and increasing efficiency safely are key business objectives shared by companies of all sizes, industries and sectors. One of the most cost-effective ways to achieve these objectives is to manage all SHEQ compliance data and task activity acro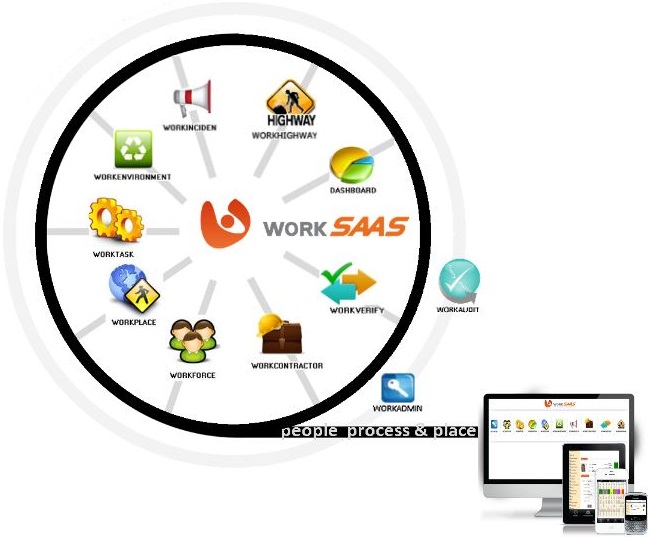 ss the enterprise from one information repository.
Silos of knowledge and expertise occur across the business and need to be managed to reduce expense, otherwise companies become swamped with a plethora of systems and processes. This is where WorkSAAS assists, it overcomes information diversification; It provides a toolkit to compliance manage all assets from one data repository; it readily allows standards and statutory regulations to be applied companywide or by business unit to accommodate regional variations in compliance criteria. It integrates and simplifies the 'compliance management' process, improving efficiency, adding additional service capability and compliance functionality not provided by most existing enterprise applications.
Consolidate - Integrate - Innovate
WorkSAAS consolidates compliance management around the location, the workforce and the tasks to be carried out, improving the return on investment in assets and in employees and partners who deliver services. This integrated approach cuts through the complex multi-layered "folders within folders" approach with which many companies cope. It provides an appropriate management infrastructure, a systematic method for identifying, analysing, evaluating, monitoring and communicating risks associated with work task activity. It makes SHEQ management more efficient, improves the quality of your products or services, supports your business case with new customers, and boosts that all-important bottom line.
Centralising data and processes around the workplace, the workforce who work there and the work tasks carried out is a new way of doing things. Its brilliance is in its simplicity. It is about providing real time knowledge that is related, connected, consistent and usable. Real time information that becomes a strategic asset putting control into the hands of management – minimising risk, improving the safety of people, premises and processes, introducing innovation and potentially supporting cost reductions of up to 20%.